No software installation!
Runs on every device!
Live Online Education & more
---
Get your own All-in-One live education solution in the twinkling of an eye
from 11.99€ / month excl. VAT
Education and training for customers, employees, pupils and students - always and everywhere
With EducateOnline you get a complete solution for the realization of your online education evensts in the latest virtual classroom.
So you can offer your presence trainings, seminars and videowebinars via EducateOnline even online, internally and externally and realize them in your virtual classroom.
And the events that will still take place on-site can be managed comfortably with our solution.
In the EducateOnline
Virtual classroom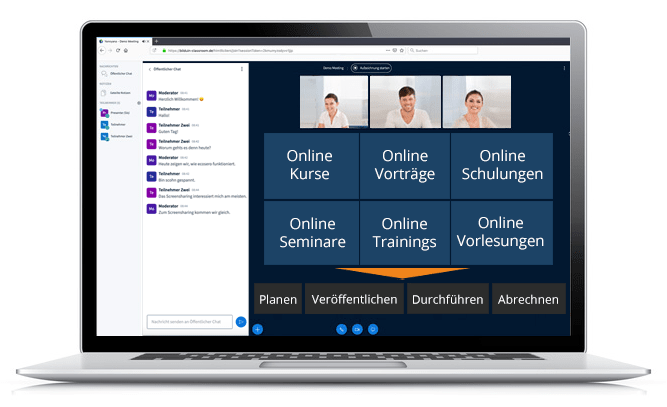 EducateOnline covers all processes for the realisation of educational events and curricula: from planning and creation to presentation, implementation, evaluation and accounting. evaluation to accounting. As simple as never before.
You will get a web-based, individually customizable solution for highly interactive online education in a virtual classroom.
Of course you can plan and realize your internal and external online meetings and workshops with EducateOnline .
Runs on every device
Without software installation
Integrate into your website
GDPR compliant, Servers in Germany
Try EducateOnline for free now!
You want to comfortably teach, train and coach online without using multiple tools?
Then

Educate

Online

will enthuse you as the All-in-One online education solution
Offer, realize and bill presence events online, too
Move your presence events like courses and consultations into the online world - EducateOnline and gain more customers with lower costs. Our EducateOnline event management covers the whole process: from planning to evaluation and accounting.
Offer online appointments conveniently via e-calendar
Simply offer online appointments for advice, coaching and training via your e-appointment calendar. More range, no travel, no loss of time. Your customers will thank you.
Offer automated video webinars and documents for sale
Record your lectures or web seminars easily in the online seminar room and offer them for sale directly via EducateOnline . If you already have videos or documents, you can also upload, describe and offer them.
Customizable e-mail templates - for automated mail dispatch
Design and edit our predefined e-mails, that are automatically sent to your participants, tutors, moderators and admins at certain events (like bookings, cancellation, assignments etc.).
Know-how databases for customers and employees
Build your individual know-how database structured according to topic - with download options for your customers and employees. Use it to create added value for your customers and stand out from the competition.
Integrate the

Educate

Online

features into your website and enjoy the advanteges of a white label solution
EducateOnline is a white label solution. All features and modules can be integrated into your website and directly be used.
We are a German company based in Berlin.
All servers, including the STUN and TURN servers, are located in German data centers.
With all our data centers, order data processing contracts were signed in accordance with Art. 28 Para. 3 GDPR, which can be viewed if necessary.
You can also sign a separate data processing contract with us.
With our solutions, you get exactly what you need - not too much, not too little.
An upgrade is possible at any time.
STARTER
The simple entry-level solution for all of your online live education events
For interactive online education events (courses, web seminars etc.) in the most modern virtual classroom. Fast, location-independent communication, coordination and cooperation via web and video conference. Connects people from anywhere using any device.
PRO
The convenient solution for your face-to-face and online education events
For common planning and realization of your offline education events on site as well as your online events in the latest virtual classrooms - including booking and cancellation functions. Everything at a glance with a comfortable calendar function. Highly cusomizable.
PREMIUM
The complete solution for comprehensive online education event management
For common comprehensive planning, publishing, booking, evaluation and accounting of your online and face-to-face events of all kinds, including videowebinar shop, eAppointments, online recruiting, knowledge management, document exchange and feedback functions.
Let us show you EducateOnline!
Select the most suitable solution for your company now and test it for a full 14 days free of charge and without obligation.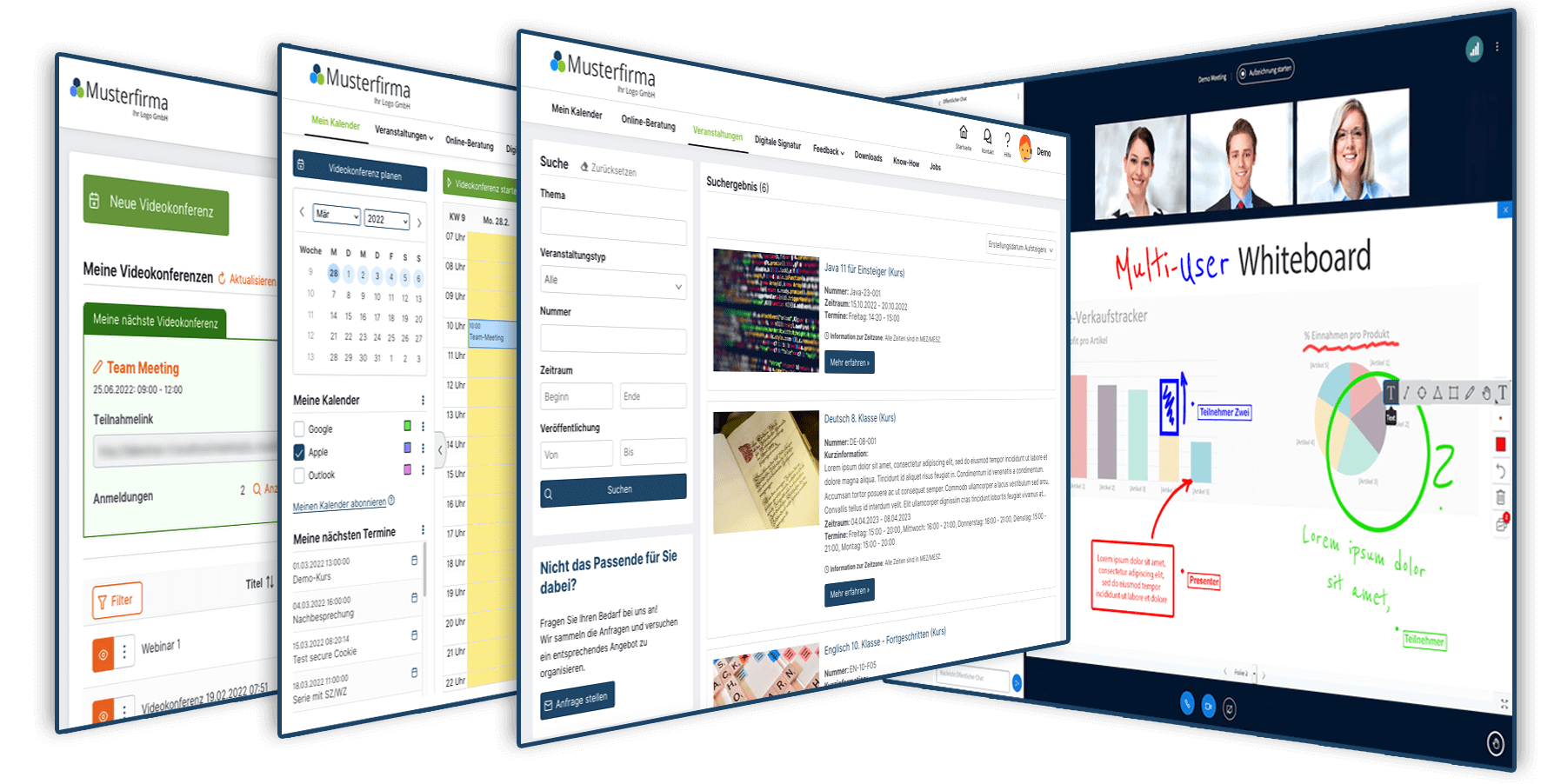 Discover the simplicity of our solutions and the large range of functions!