Legally compliant and convenient
With EducateOnline you take all your educational events to the online world
Larger range, more education and training at
lower costs

ess introduction effort

less training and and administration effort
14 days for free|No Credit card required
|Audited Data Protection|100% Hosted in Germany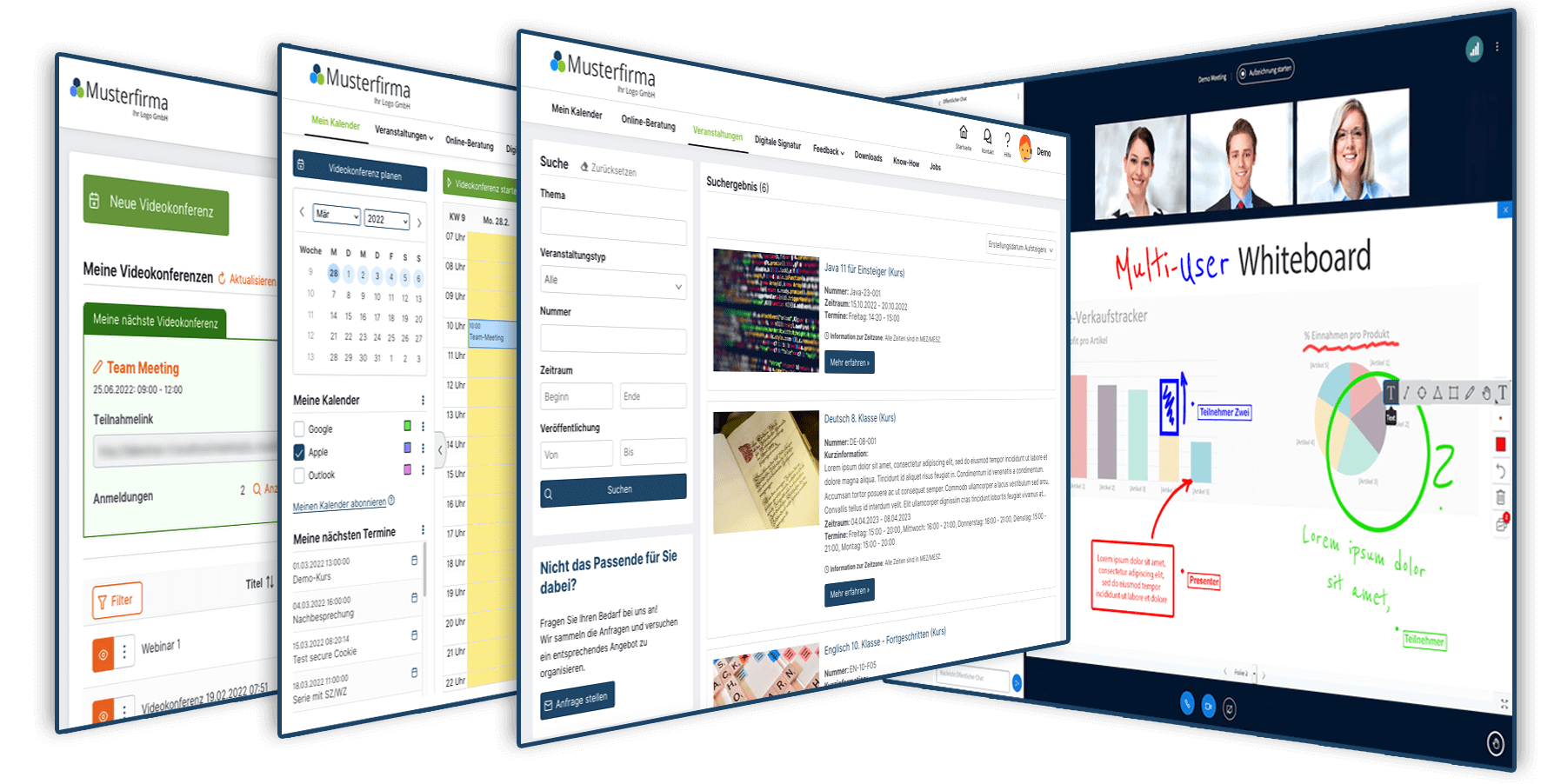 The complete solution for all your education events - online, offline and hybrid!
Education and training for customers, employees, pupils and students - always and everywhere
The special feature of EducateOnline is the combination of the advantages of several education-related systems in an unrivaled, holistic platform. This optimizes joint planning and implementation and minimizes training and administration efforts.
You get a web-based, customisable white-label platform with the best data security with German standards.
Our Inhouse Support always ensures a smooth service.
Virtual classroom based on BigBlueButton as the leading Online Teaching Platform

Learning Management System for the organisation of learning/teaching processes

Webinar system for automatically retrievable webinars anytime and anywhere

Videokonferencing system for your internal/external online meetings and workshops

Webshop for the sale of events for which a fee is charged incl. Invoicing
Runs on every device
Without software installation
Integrate into your website,
Customer specific customisations
GDPR compliant, Servers in Germany
Try EducateOnline for free now!
You want to train and coach comfortably, without using countless tools!
Then EducateOnline will inspire you as the all-in-one online education solution for learning and teaching - online, offline and hybrid
Offer face-to-face events online as well, conduct and invoice
Enter your attendance events, such as courses and consultations via EducateOnline into the online world and win more customers with less costs. EducateOnline event management covers the entire process from process from planning to evaluation and billing. accounting.
Organise learning/teaching processes
Organise with EducateOnline as a Learning Management System your learning/teaching processes with individual digital timetables, learning materials, IDD-compliant learning progress checks, online tests and automatic certificate issuance
Automated video webinars and documents
Record your lectures, web seminars easily in the virtual classroom and virtual classroom and offer them directly via the EducateOnline to offer them directly. If you already have videos or documents, you can also upload them upload, describe and publish them.
Monetise services
Offer your fee-paying services (e.g. live online courses, consultations and webinars) directly via EducateOnline with greater reach. Thereby minimises EducateOnline the administration effort through automated process control, e.g. for invitation, booking, cancellation and cancellation and billing management.
Offer online appointments conveniently via eCalendar
Simply offer online appointments for counselling, coaching and training via your eCalendar. More reach, no travel, no time wasted. Your clients will thank you.
Customisable email templates - for automated email dispatch
Design and edit the predefined emails that are automatically sent to your participants, lecturers, organisers and administrators (e.g. in the event of for bookings, cancellations, assignments, etc.)
Know-how databases for customers and employees
Build up your individual know-how database structured by topics - with download options for your customers and employees. Stand out from the competition.
Integrate the
EducateOnline

functions into your website

EducateOnline is a white label solution. All functions and modules can be integrated into your website if required and used directly.
Let us show you EducateOnline!
You can conclude a order processing contract and a confidentiality agreement in accordance with §203 and 203 (StGB).
All servers, including the STUN and TURN servers, are located in German data centres. The data transmission is encrypted.
Order processing agreements have been concluded with all processing contracts in accordance with Art. 28 Para. 3 DSGVO.
Try 14 days for free
Select the most suitable solution for your company now and test it for a full 14 days free of charge and without obligation.