GDPR compliant, secure and reliable
The virtual classroom
For all your digital educational events
No software installation
Optimal live online education with the help of EducateOnline LiveCam
Choose your live demo date!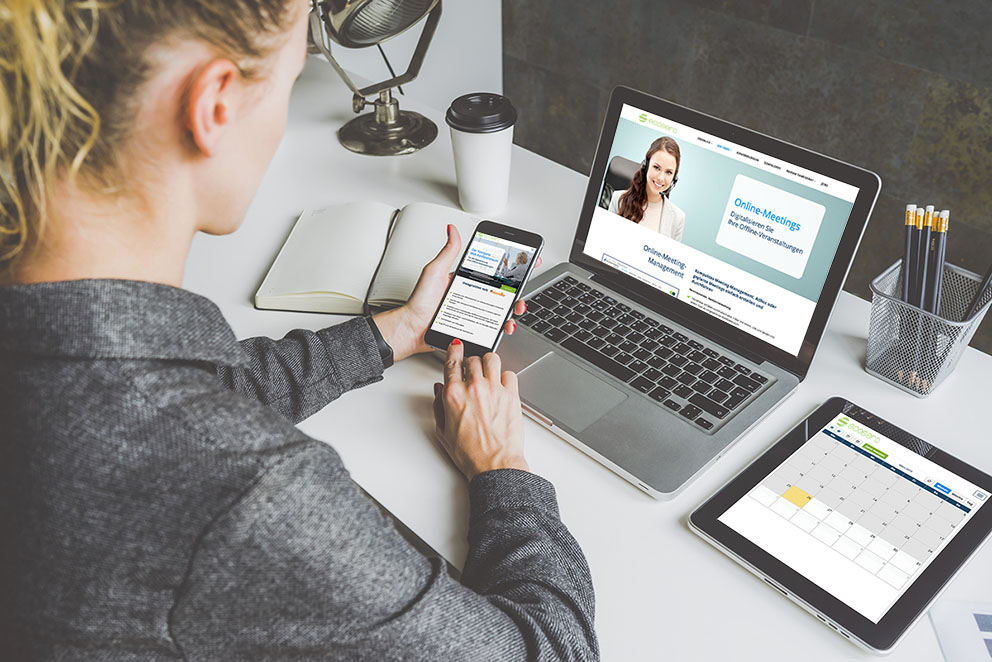 Web browser-based and device-independent
Web browser based virtual classroom with HD video, Low Latency Voice and reliable VOIP telephony

No software installation necessary

Compatible with common end devices (PC, smartphone, tablet)
Webcam, Recording and Playback
Participants can share their webcam and are visible to everyone at the same time

With your own webcam background images

Recording of the events for later playback and download

Possibility of live transcription of audio data. This function is currently supported by Google Chrome, MS Edge and Safari.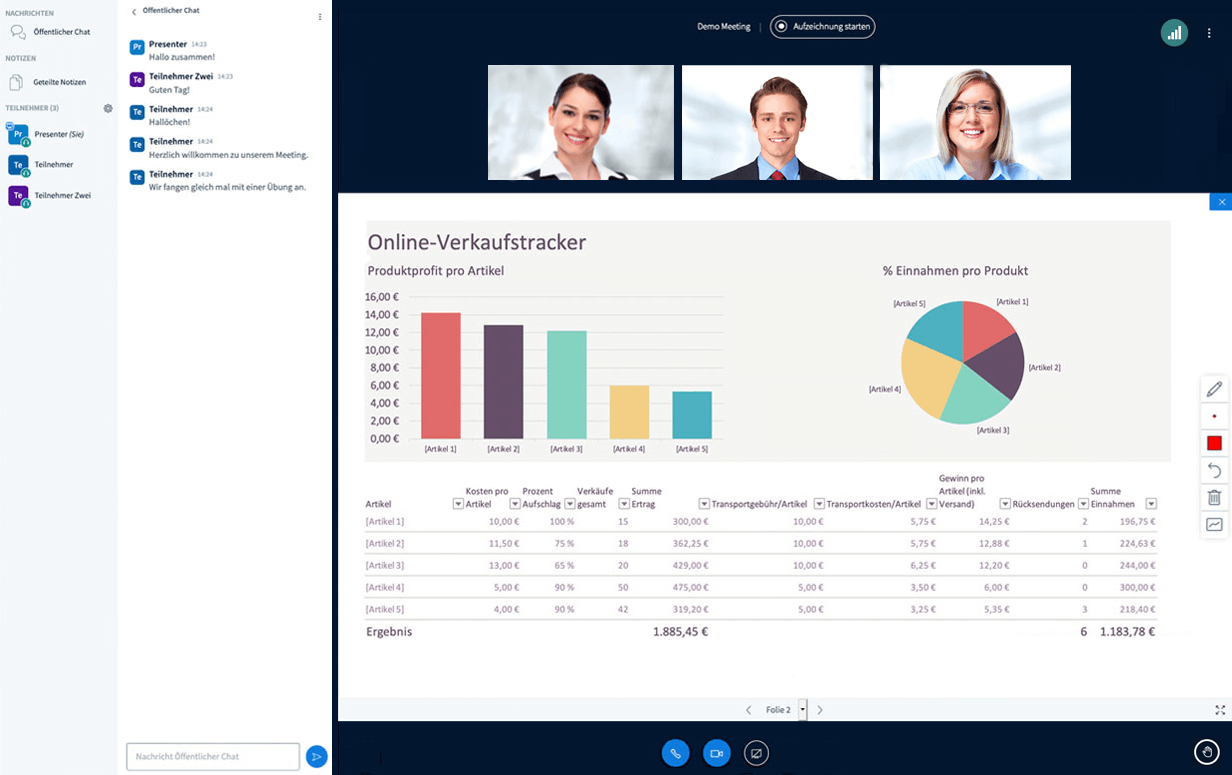 Group work with breakout rooms and shared notes
Group participants together in groups and place them in group rooms for a fixed time for a fixed period of time - for better co-operation

Joint creation of notes and export in several formats (Word, Html, Pdf etc.)
Working together working with desktop sharing
Sharing the entire screen or individual applications

Participants can track activities on track activities on your PC

Access from outside is of course not possible
Customisable, multilingual, secure
Virtual classroom currently supports 60 languages
Flexible layout
Participants can easily choose a suitable layout
Moderators can broadcast a specific layout to all to all participants and thus synchronise the virtual room
No more confusion due to different layouts layouts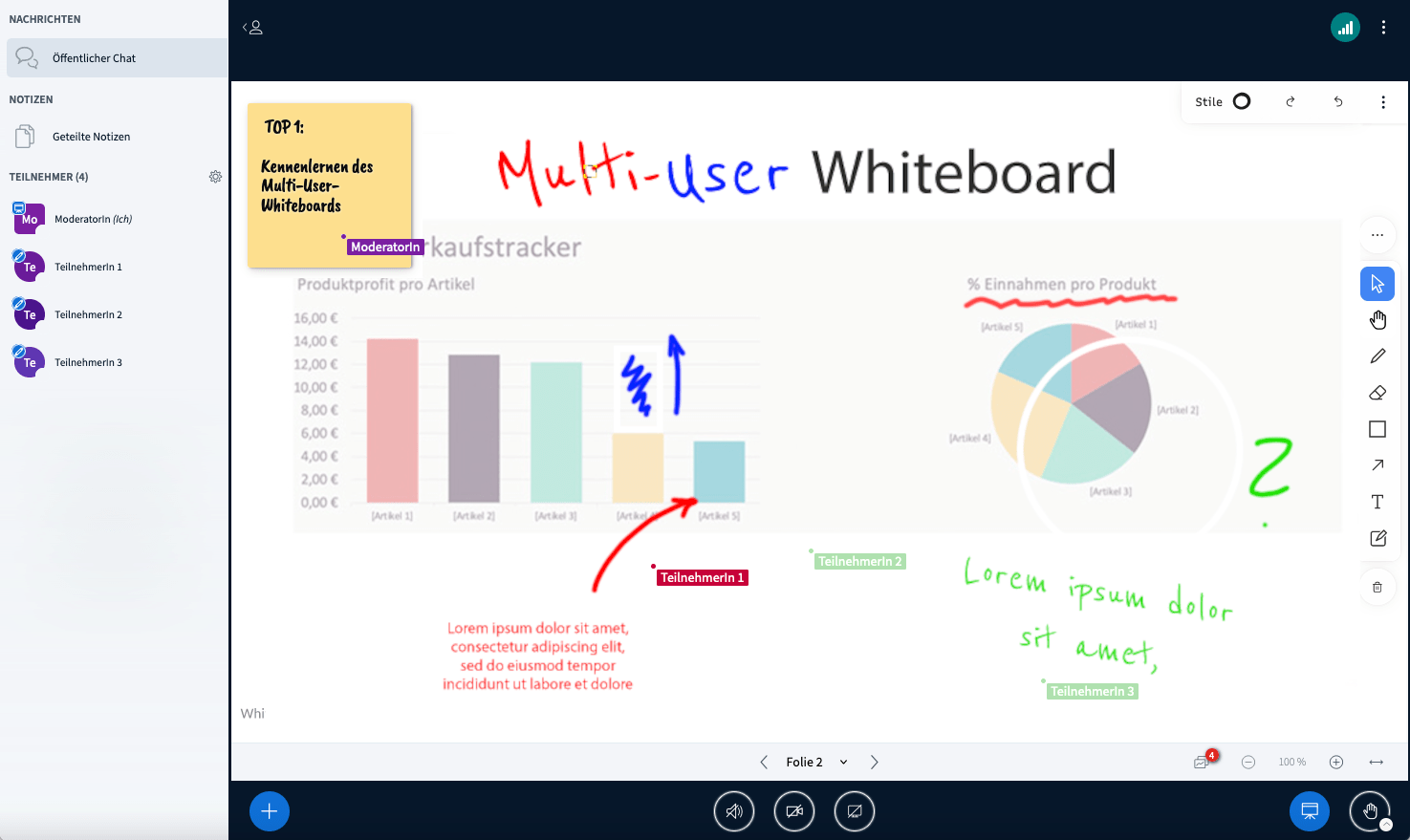 Our multi-user whiteboard for creative collaboration - the perfect complement to video conferencing software
For optimal online collaboration - as if you were sitting you are sitting together.
Easily upload and share documents (PDF, Office files, etc.)

Add annotations to the presentation via the whiteboard tool palette

Draw and write directly on the whiteboard with a stylus (assuming touch-screen capable monitor)

Local storage of the whiteboard content

Sharing the whiteboard with all participants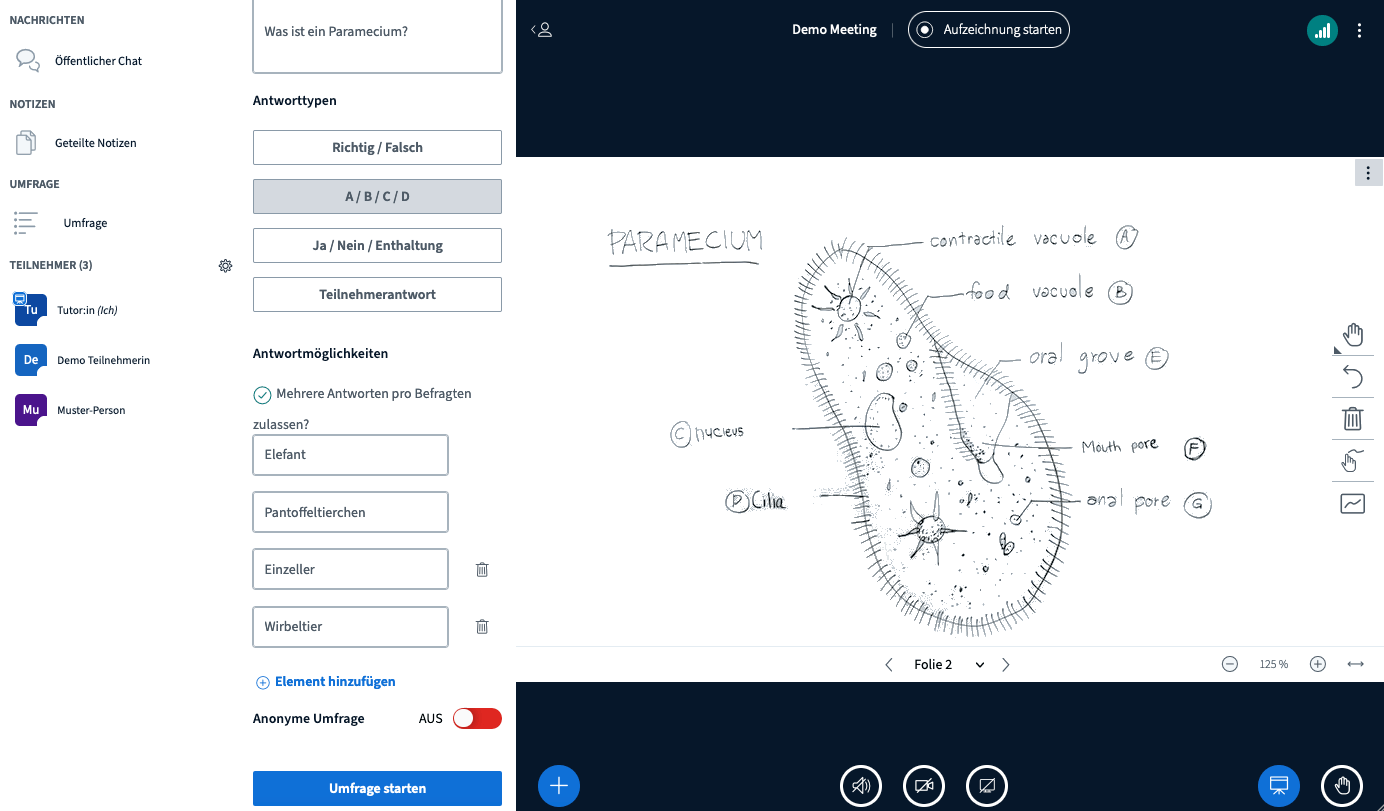 Live Polls
Conducting polls and tests during the live event

Anonymous Polls

Customised polls: Write the question the question and the answer option(s) of the poll in the predefined format or select a text file with the questions and questions and answer option(s) via drag & drop

Select random participant
Interactive
Participant feedback via status icon: Request to speak, absence, approval, rejection, etc.

Moderators can exclude people, mute them, give them the right to speak, etc.

Private and public Chat rooms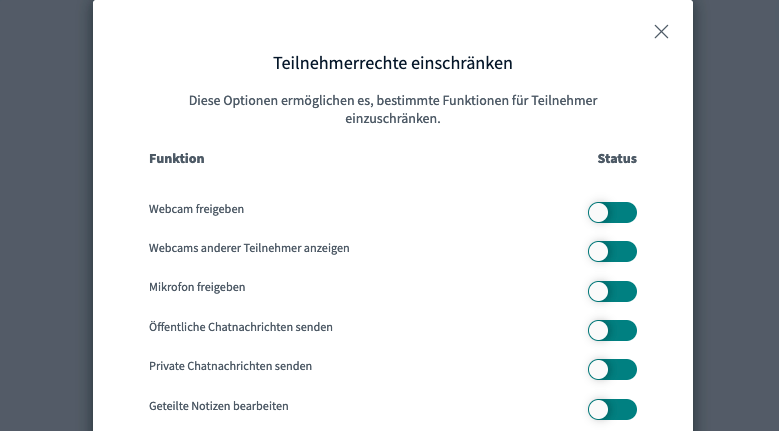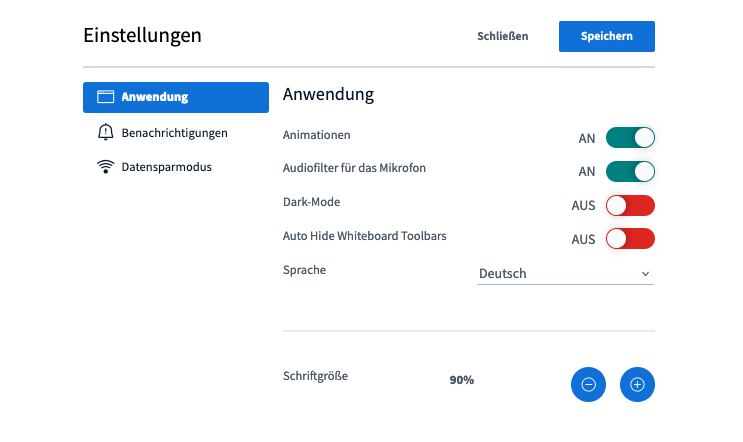 Settings and rights control
Notifications: Audio and/or pop-up hint for chat messages, participant entry, participant leaves the room, raise hand

Data saving mode

Dark mode

Audio filter for the microphone

Language selection (60 languages)

Guest access rule: Ask moderator, Always accept, always refuse

Participant privileges: Restriction / Release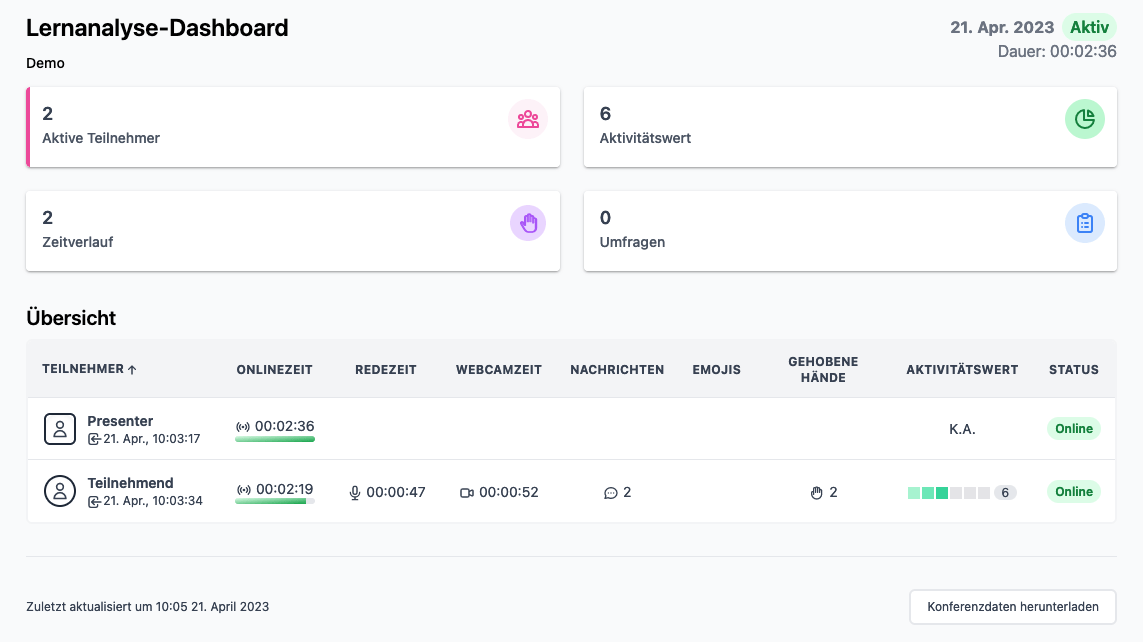 Learning Dashboard
The activities of the current course/seminar are presented bundled as a dashboard.
You can see here, for example:
When and for how long users were connected

How long was spoken

How long the webcam has been shared

Number of messages, emojis and hand lift

Poll results
Optimal suitable for hybrid events
The virtual classroom from EducateOnline based on BigBlueButton is ideally suited for hybrid events. events
.
All participants can use two webcams use. For example, the speaker can point one camera at on themselves and another camera on an analogue board in the meeting room on site, for example. in the meeting room on site.
Instead of an analogue whiteboard, a touch-capable touch-enabled monitor in the on-site meeting room can also be used as a digital board can also be used as a digital board for hybrid events.
This allows the speakers and participants to be participants can write, sketch and collaborate simultaneously on site and remotely. write, sketch and collaborate at the same time.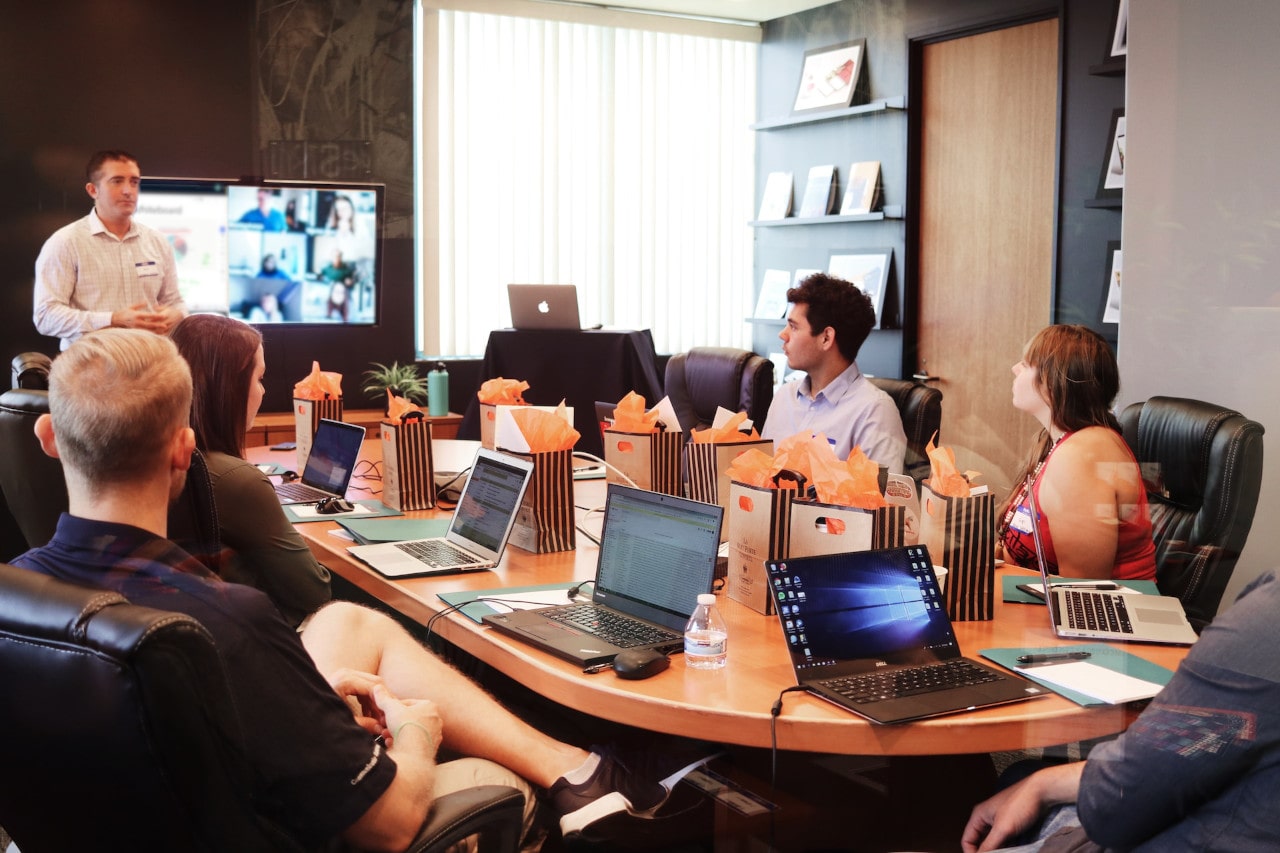 Try out the virtual classroom at EducateOnline for free!