From person to person
How you realize your
online education events with
EducateOnline
PREMIUM
für
SMEs & major companies

: Internal and external education and trainings


Vocational schools & universities

: Online seminars, lectures, presentations


Pupils & students

: Online learning portal


Cram schools

: Online coaching
Create, publish and manage internal and external education events
It's so easy to realize your internal and external online education events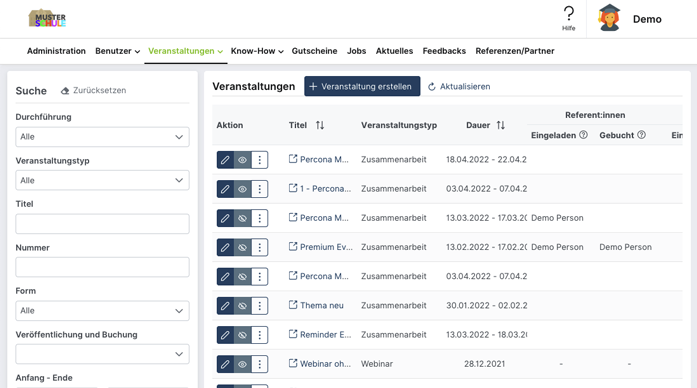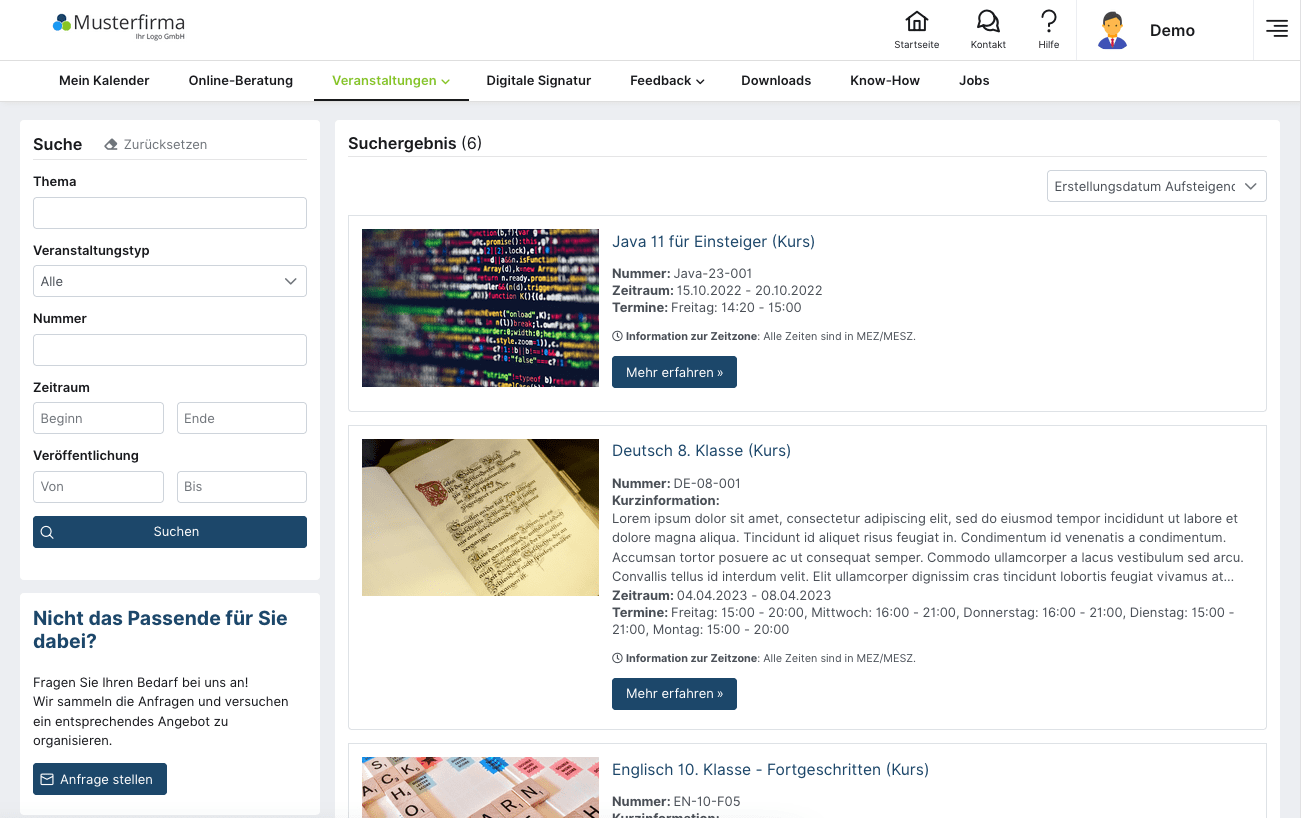 Create and publish
Homepage: Configure a landing page for your

EducateOnline

web solution in the twinkling of an eye and easily create the content of your online/offline education events by using a with a WYSIWYG editor.
Event templates make it easy to create events based on previous events.
Display of events: Comfortably configure how your events will be displayed on your

EducateOnline

web solution.
Access control: In case of role specific events you can specify access for certain users/groups.
Your can edit your reference customers via a WYSIWYG editor and show them on your

EducateOnline

web solution.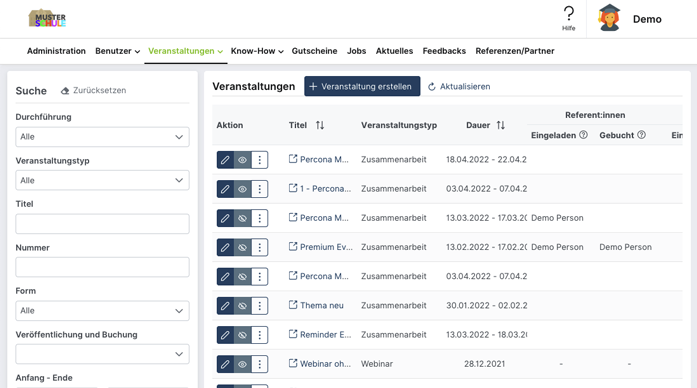 Manage
Booking management: Simple management of bookings, cancellations, substitution of tutors and rescheduling of dates
Email management: Comfortable management of pre-defined and customizable emails, that will be automatically sent to admins, participants and tutors on certain events.
User management: Easy to use user management for tutors and participants as well as role and privilege management
Document management: Comfortable storage of event specific or private documents with the possibility to download for moderators, tutors and participants minimizes the administrative efforts for your documents.
Live demo management: You can offer and manage live demo appointments on your

EducateOnline

web solution.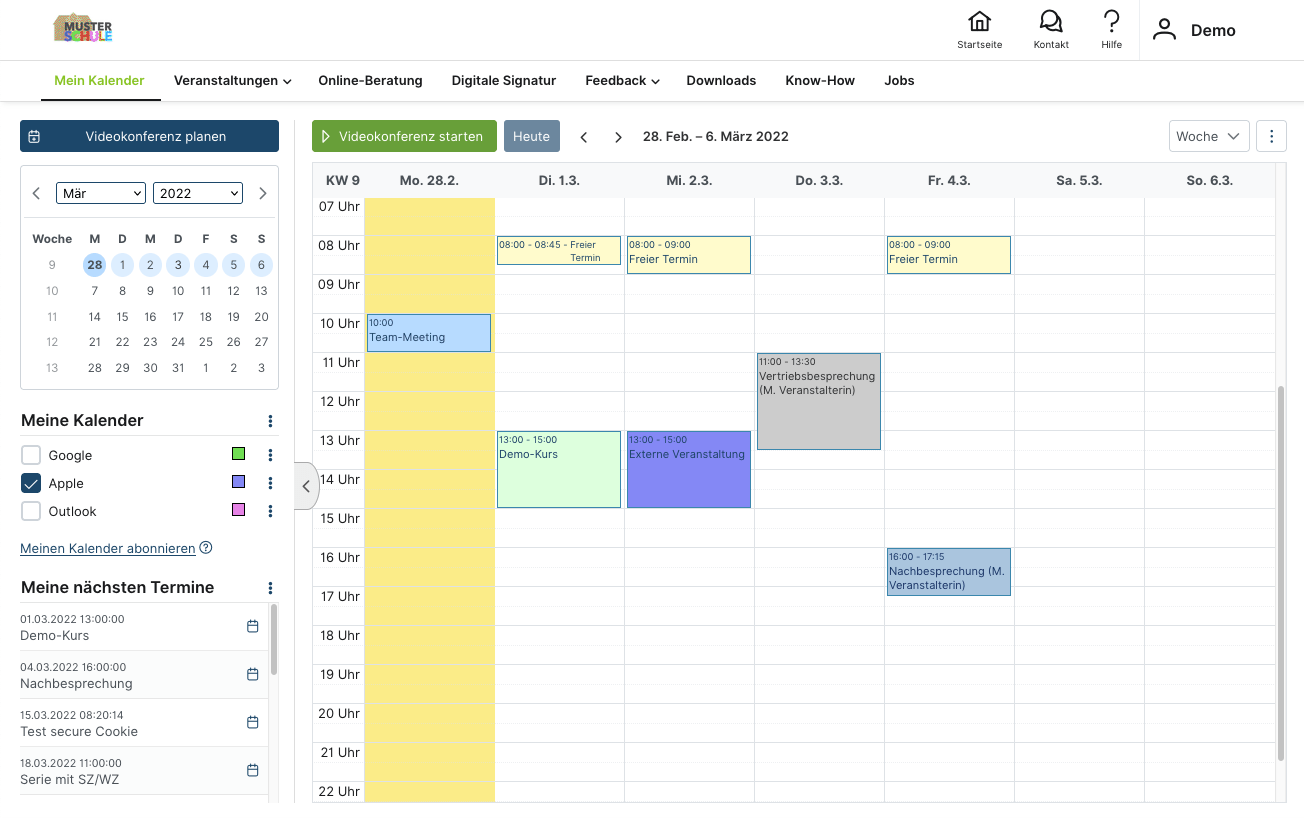 Participation & feedback
Role specific areas for organizers, moderators, tutors and participants provide the possibility to book, cancel, participate and leave feedback very comfortably
Playback function: Any participant always has an overview of the own events and is able to replay them if they have been recorded
Event request management: Your users can send you specific requests to tell you which kind of event they require at which date. You have an overview via event request management and can create new events based on those requests.
Feedback management: Participants can leave feedback after every session.
Conduct highly interactive online education in the state-of-the-art web conference room
Browser based, no software installation
Supports 50 languages
Break-out rooms: Break-out rooms are separated meeting rooms in which your participants can work together parallely to the main room. They provide an easy way for group work.
Integration of non-digital objects and media with our

EducateOnline

-LiveCam
VOIP audio and HD video calls
Recording and payback
Desktop Sharing, Public / Private Chat, Live polls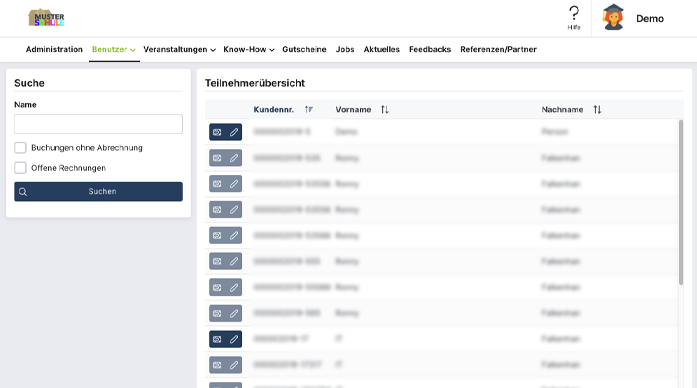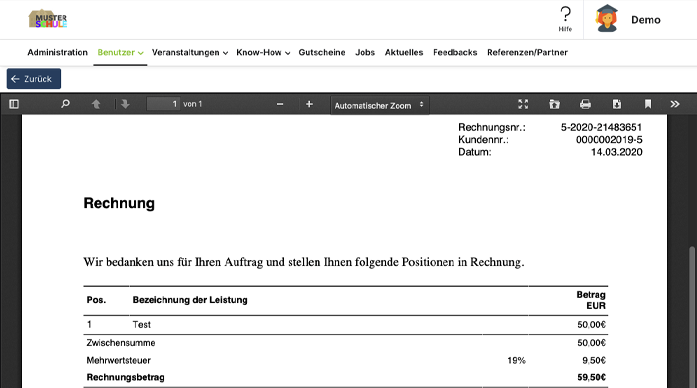 Accounting for your online education events
Comfortable creation and dispatch of bills. You will always keep track.
Comfortable creation and editing of bills
Automatic dispatch of bills to customers after event booking
Comfortable view of paid and unpaid bills
Overview of tutor fees
Overview of participant fees
Previous
Next
Online knowledge management
Increase participation of your employees/customers in building up and transfer know-how directly via the virtual classroom and with the help of a knowledge database.
You as portal owner and your admin users can
Create topic oriented know-how databases
Clear documents or suggestions: Your users can submit topic suggestions with documents, that you can reject or accept for publishing.
Realize know-how transfer events in the web conference room
Your employees can
Pass their know-how to others in the web conferencing room on their own
Search for and download documents and templates
Upload own documents in a structured form
Your customers can
Download documents (i.e. product Sheets, whitepapers etc.)
Participate in your videowebinars
Give feedback for your events
Upload own documents, that you as portal owner can evaluate and clear for publishing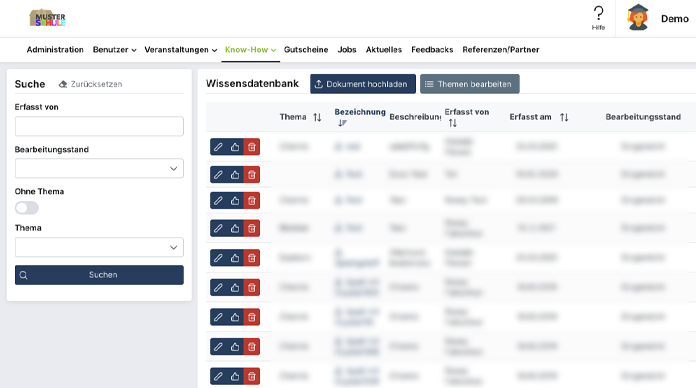 Start right now! Just request your free test account for